Ron Levy's Music!
"Ron Levy is one of those special artists who once you've heard him, you will definitely remember the experience. He is the complete package. Great organ & band sound, great solos and insanely good writing."
- Karl Denson, Saxophonist
- The Greyboy Allstars, KDTU & The Rolling Stones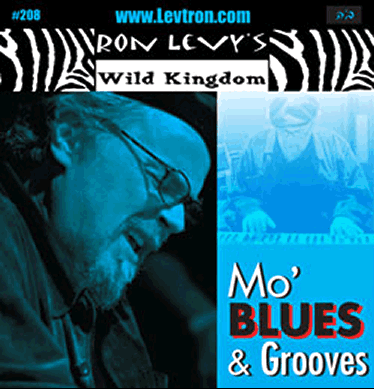 Ron Levy's Wild Kingdom grooveliciously combines, works, plays in, stretches out, distorts, harmonizes and reflects the familiar and exotic, the smooth and toxic, the dynamic ups and the downs, the known and unknown boundaries of Blues and Jazz, Latin and Gospel, Hip-Hop and free style feelings into a unique musical gumbo, exciting young hip club and college audiences as well as the older veteran Blues and Jazz aficionados everywhere across the globe.
Levy, a steady 40+ year veteran of every cool scene to be seen, whether it be with Albert King, B.B. King, Roomful of Blues, Luther 'Guitar Jr' Johnson or Karl Denson and as organist, pianist, composer, arranger, sideman or soloist, producer and A&R man of over 200 recording projects of traditional and contemporary Blues, R&B, Jazz, Gospel, and real deal, hardcore music from New Orleans, Memphis, NYC, West Coast, Texas and beyond, has garnered many awards and nine Grammy nominations. His original compositions and recordings have been used on every television network and over a dozen films.
Ron has completed his first book, 'Tales of a Road Dog'. It is now available in your choice of Web-book, eBook or print. He's already received enthusiastic critical acclaim for his writing and innovative Web-book format. It's a humorous and historical look at Levy's travels and experiences from his 40+ years on the road and many recording sessions. Take a "test drive" now!
We welcome you to this website and hope you can find what you need easily and quickly. Please check out the music store links for sound clips and purchases. We also invite you to sign up, comment and join Ron Levy's Facebook fan page for daily updates [links above]. Check us out regularly for the latest news updates and schedules, and new products available securely online for your all-important confidence, convenience and satisfaction.
Groove deliciously everyday and jam on & on.
See ya soon!